1937 Calendar - Aux Training Manual - NEW issue with added amendments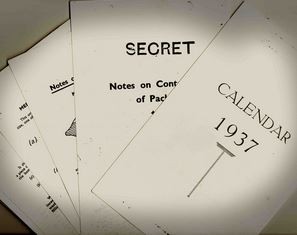 Many people think "The Countryman's Diary" was the first and only manual issued but they are wrong. The Government and Coleshill staff created the 1937 Calendar which research would suggest was issued in 1940 but increased sophistication of equipment and training meant that by mid 1942 this original training manual was outdated and replaced by the Calendar 1938.
This item is a brand new 23 page rare reproduction A5 size. It is bound at the top, rather than the side, using a metal clasp in the same way as the original.
Our issue now contains extra pages of contemporary amendments discovered by CART
NOTE: the three "Calendar" training manuals are available in a special bundle of 3, and also a bundle of 5 along with the The Art of Guerrilla Warfare Handbook and The Partisan Leader's Handbook.