Tales of Peter Potter book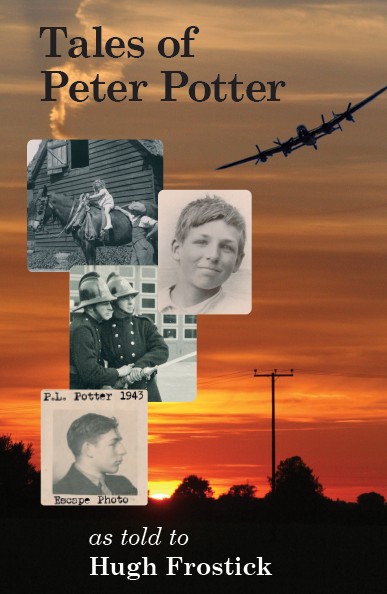 "Tales of Peter Potter" as told to Hugh Frostick.
Peter Louis Potter played a part in the Fingringhoe Patrol of the Auxiliary Units in 1943, alongside his father Lou, whilst awaiting his call up to the RAF as a Lancaster read gunner. Hugh Frostick is himself son of Auxilier Charles William Frostick of Mistley Patrol. Hugh and Peter met at Boxted Airfield Museum where a mention of Parham helped them make the Secret Army connection.
Hugh found that Peter only lived 3 miles away and went to interview him. Peter had long worked on a life memoir, and Hugh agreed to write it up for him. As the many interesting tales developed, Hugh decided a published book was a must. Two years later, as Peter celebrated his 92nd birthday, "Tales of Peter Potter" was published, telling Peter's fascinating life story in a humorous and very readable way.
Peter grew up on a farm in the Essex marshes outside London, before moving to Easthorpe and then Fingringhoe. In order to escape the reserved farming occupation and volunteer for the RAF (under age), he ran away from home. He then returned home and was trusted to fill in for an injured patrol member for a few months, and got to learn all their secrets.
He went off to complete training as an Air Gunner and survived a full tour (33 Ops total) in 626 Squadron at Wickenby. After the war he was involved in hand over of USAAF airfield to the RAF and some station closures. After demob he worked as a nurse in Colney Hatch asylum and then Severalls in Colchester. He spent a year rebuilding the sea defences around his new home on Mersea Island after the 1953 floods, and then had 19 years as a fireman based in Colchester.
Packed with many humorous stories, incidents and insightful observations, this book is a fascinating read. 
ISBN 9780995793804. Shipped direct from author / publisher.